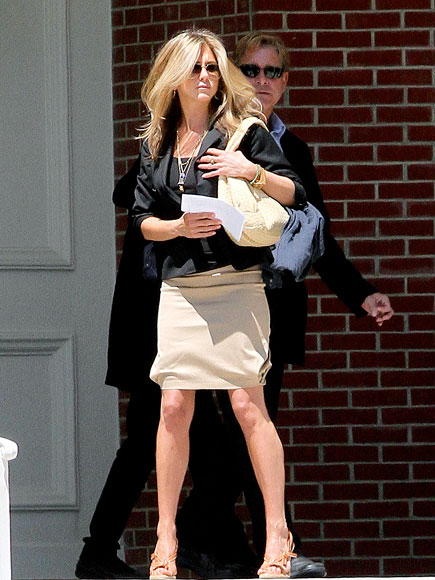 2010
BUSINESS AS USUAL
Amid rumors of a new romance with actor Chris Gartin, a sharply dressed Jennifer Aniston steps out to attend a meeting Wednesday in Los Angeles.
It's been months since Jennifer Aniston has been spotted with a new love interest, so when she enjoyed dinner out with a mystery man at L.A.'s Sunset Tower Hotel July 1, blogs were abuzz.

Despite the intense interest, Aniston, 41, was simply dining with an old friend, actor Chris Gartin, 42, who is the soon-to-be ex-husband of event planner Jo Gartin, a close friend of Courteney Cox and David Arquette's.

"Chris and Jennifer have been friends for many years," Aniston's rep tells PEOPLE. "She has had dinner with him dozens and dozens of times."

The pair arrived and left together, but "they're definitely just friends," seconds another source. Of the romance rumors: "This is just silly."

source:people.com
Well, I'm happy now. Not because of the rumour that Jen is dating again but because there's something new about her, rumour or not. Everyone is over with her diet (or
weight loss products
). Moving on.
*****